Walls
Architects, designers and builders appreciate Western Red Cedars contribution to beautiful exterior walls. Many interesting patterns and textures can be created to add visual richness and distinction. Rugged, highly textured shakes lend themselves to the rustic building environment, while shingles are more adaptable to the clean lines of modern architectural styles.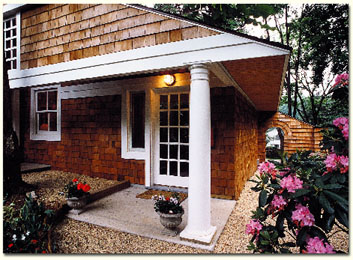 Shingles and shakes also offer other advantages. They provide solid, weathertight protection whether applied in double or triple layers. They can be applied to exterior walls on any type of building where a solid nailing base can be provided. In new wall construction they may be applied over spaced or solid sheathing.
When renovating old buildings they can be nailed directly to old wood siding or to wood nailing strips or battens if walls are brick, stucco or other non-wood materials.